Close-Cropped Answers to What it Takes to Make Your Main Mark
Provides a guide for executives to sharpen managerial skills through a series of incisive questions and essays designed to gage perceptions and skills utlized in day-to-day business scenarios.
"Underscores that Allan Cox is one of the most original, practical and energetic of today's management gurus." New Management Magazine, USC Business School
"His creative insights are uncannily perceptive and capable of enriching the life of anyone who has a position of responsibility." Scott DeGarmo, Editor-in-Chief, Success Magazine
"This highly practical book makes Allan Cox your personal coach. Herein is a wealth of astute insights and illuminating stories." Robert E. Kaplan, Director of Executive Leadership, Center for Creative Leadership
"Pithy, relevant, pragmatic . . . full of good advice on a wide variety of topics." B. Kenneth West, CEO, Harris Bankcorp, Inc.
First Book Written on the Executive Search Profession and Finishes with a Wallop!
In this book, with the same skepticism he brings to his work, Allan J. Cox passes on what he has learned about how to make it-in the modern business world. He tells executive candidates how to impress management, and he tells management what to look for(and what to ignore) in prospective executives. He uses telling anecdotes to describe the thousand natural shocks that companies are heir to, and he prescribes remedies. And finally, he draws a thought-provoking picture of corporations to come, as America's technocratic society approaches a time of moral and ecological crisis.
"Fine proseman Cox tells secrets out of school … A telling book for hunters and hunted." Wall Street Journal
"Knows his job and writes well." Atlanta Journal-Constitution
"Derive both kicks and insights from Cox's inside views of what goes on at top levels." Publishers Weekly
How to Wake Up in the Morning with Juice in Your Shoes!
Here, you'll find a fresh start to your ascendant life. This book from Allan Cox offers new life translations for changeover to the complete person--the one you're committed to be. Discover, confront, accept, or replace the hidden central goal in your life that figures into every step you take. As it stands at the moment it may be your greatest gift or devastating limitation. Don't be without this knowledge you need for unique self-discovery and nurturing. Live a life in which you excel, not one that's severely compromised.
Allan Cox has not only identified what business leaders--and not just CEOs--need to learn about themselves, but how to best leverage that knowledge. The CEO in You explores the often untapped goals, agendas, and attitudes that can lead to--or derail--success as a leader. He encourages us to get to know ourselves better and in so doing become the leader we want to be.

Greg Wasson
President and Chief Executive Officer
Walgreen Co.
"A forceful effort to help CEOs understand the hidden goals they pursue."
"Nicely packaged and well-wrought, with the potential to shake up many an executive's conventional thinking." -Kirkus Reviews
In our hyper-connected lives, the noise is deafening and the signals faint. Being crystal clear on one's purposes is now more important than ever to avoid the constant stream of distractions. I can see this book becoming the life companion of the leaders of the future who will use its practical frameworks, metaphors and examples to navigate information overload and stay focused on the real goals. It's worked for me and I have recommended it to everyone I mentor.
Annalie Killian, Director of Innovation, Collaboration and Communication
AMP Financial Services
Sydney, Australia
In this short companion piece to Allan Cox's book, The CEO in You, you'll get a taste of whether or not you want to engage in a truly unique form of personal exploration. Cox has taken the central concept of Alfred Adler--the pioneer-founder of Individual Psychology--and molded it over a period of 30 years to the benefit of many CEOs, top executive teams and their companies. Adler, by the way, along with Freud and Jung, make up the "Holy Trinity" of modern psychology. You've heard about the inferiority complex and birth order. These are just two insights from Adler. In this companion piece and the larger book, too, Cox focuses on Adler's work of pure genius, The Style of Life. It's a wakeup call, no matter what your world's walk.

* Without realizing it, you are likely to be on a life course that is either a looming threat that leads to failure or a guardian presence that assures you of a meaningful and contributing life.

* You'll often see these life choices clearly in others but not so well in yourself.

* Which is it for you, easing your way through the life's transitions or taking wrong turns that set you up for missed opportunities?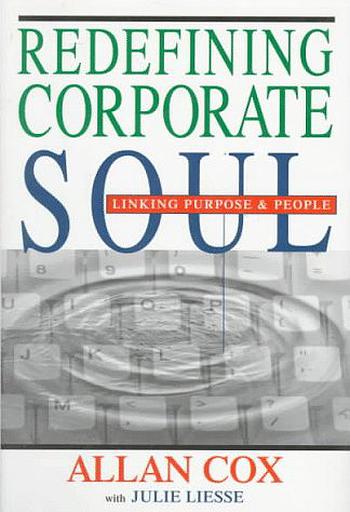 Survival of the Fittest Today Requires SOUL and PURPOSE
Redefining Corporate Soul is not about start-up, or crafting yet another "identity program, " or deciding to become something or somebody new. This book's clear message is about rediscovering who you are and what you do best, and repairing the broken connections between people, people and the organization, and people and purpose. Redefining Corporate Soul reminds you that just as you had dreams and passions that helped you arrive where you are today, so did your organization. If that mission, that drive, becomes blurred over the years, then lethargy sets in, people stop caring, and the organization drifts. In powerful, direct language, Allan Cox points out where to make the vital changes that will lead to a corporation - and a workforce - that is once more resonating with purpose and soul.
"Draw ideas and even inspiration from this book." Computerworld
"Only 134 pages, Redefining Corporate Soul . . . Linking Purpose & People is a fast-paced — yet not simple — read that can easily be completed on a cost-to-coast flight . . . Introduction to two-page feature in: World Traveler, Northwest Airlines in-flight magazine
"Allan Cox wrote a book called Redefining Corporate Soul. 'There are places where that dog-eat-dog stuff is still around,' he says. 'But it just won't work. It has no future. The new Darwinism means that those organizations are not going to make it. Survival of the fittest today requires niceness. The fit are nice. The fit are compassionate. The fit have soul and purpose.'" USA Today
"All of the half-dozen cutting-edge books Allan Cox has authored have invariably been a step ahead of the works produced by the 'me-too' pack of management gurus. Now, again, in Soul, he has his arms around tomorrow's key issue today!" James O'Toole, VP-Seminars, The Aspen Institute
"This is an extraordinary book, beautifully written, and full of wisdom. It is highly recommended." Directorship
Stunned by LIFE is the Only Real Wake-up Call!

First, let's think about work. Did you know that even gifted executives derail in their careers because they haven't mastered the subtleties of:

1. Collaboration
2. Forging a mentor relationship and
3. Knowing and acting on their unique strengths?

These shortcomings reveal themselves most when challenges are new and the answers are few.

Regular reflection that includes poetry can add the missing dimension to you if you face such challenges and feel you're losing influence in your life. It lets the light in, and poise is the outcome. Dutch priest and psychologist Henri Nouwen famously wrote, "Silence is the home of the word." And in fact, the recent, enormous popularity in the work force of the book Quiet by Susan Cain, shows how reflection as a powerful quality has gained true traction.

So, how do you find clarity in your mind and embolden your own voice? How do you rid yourself of the fear that life is passing you by? You're not getting any younger . . . and perhaps you're not doing anything about it?

The answer is through personal self-discovery and transformation, says Allan Cox in his latest book, When The Sun Shines Through. Transformation, however, doesn't come easy. It takes guidance to reimagine your life, to live more fully and claim what your unique strengths are, not just at work, but across your whole life. This also takes soul-searching

This new book, part of Allan's ongoing series, Change The Way You Face The Day, contains 13 chapters which prompt questions readers might not have asked themselves in a very long time--if ever. The book briefly, yet deftly, weaves Cox's original poetry, his 4-color photos and perspectives to bring a fresh self-sufficiency. It invites you to dig deep for unique insights and establish new boundaries and grounding.

Why poetry? "To make people more thoughtful," says Cox. "And it allows me to make the books in the series of small size because I'm able to deliver more accessible essence in a one-page poem than in a 20-page article." Cox blends his incisive presence with a perspective on poise honed from decades of leadership work among CEOs and their top teams.

He adds, "You can't help but see yourself with fresh eyes as you delve into these pages. Truly seeing your feelings unfold for the first time is the purest form of reflection." He turns to Thomas Merton to deliver the real wallop: "People may spend their whole lives climbing the ladder of success only to find, once they reach the top, that the ladder is leaning against the wrong wall."

Allan's book is trying to help readers Wake Up and ask, 'Who am I now? What do I care about and believe in most deeply that I can deliver to the world, my family, my work? It holds up the mirror to its readers, helping them to dispense with the lethargy, the terrifying feeling that life is passing them by.

Allan's Q&A section is presented in a laid-back, conversational style that is comfortable, easy going and easy to understand. It's a great guide for Small Group discussion - When The Sun Shines Through is an ideal book for a handful of colleagues in the office once a week, a Saturday Morning Men's Group, a Monthly Women's Book Club or chatting at home with a few friends on a continuing basis. It is also powerful when just read alone.
> BUY NOW ON AMAZON
Coming June 13th, 2016
The average executive spends 17 hours a week in meetings and another six hours preparing for them. The Irony: The only meeting worse than the one you're invited to is the one you're not invited to. So, where do you fit at the table? Time to think about how you can be a true team participant and catalyst.
As a follow up to Allan's book, "The CEO In You," Cox shares the secrets of successful teams. True, many people do their best work and have the most to contribute by working alone. However, teams are essential.
"Your Place At The Table" tells stories and shows examples which help readers gain first-hand insights and get the best counsel from an admired pro who can teach you how to turn the meeting you face from a burden to a place where enlivened performers bring their best talents to the real job at hand. And you'll belong because you will walk in with competence in your head and ideas that flow freely from the strength you own in your insights.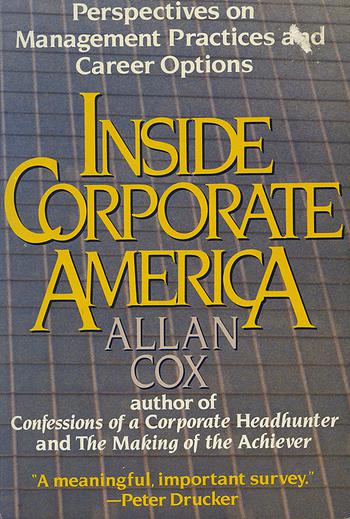 How 93% of American Executives Size-Up their Companies
Most people have a healthy curiosity about American corporations and their executives and a desire to know what makes them tick. In this groundbreaking study, the inner workings of the American corporation of the 1980s are examined in depth—revealing numerous surprises that dispute conventional wisdom about corporate life. The information is based on the answers to an exhaustive confidential questionnaire given to 1,086 top-and middle-management executives of thirteen major American corporations. The executive's candid observations, combined with author Allan Cox's knowledge and experience, have produced a unique, authoritative and fascinating book.
"A meaningful, important survey."
Peter Drucker
"So rich a lode of information . . . a task of no mean significance."
Across The Board
"Surveyed nearly 1,200 executives at 13 large companies 'to get at the veiled truths of the corporate world.' And lift that veil he does."
Los Angeles Magazine
"(It) demonstrates the intensely personal nature of executive ambition, which often seems to exclude the wider corporate good."
New York Times Book Review
Pithy Thoughts on Life's Three-Legged Stool
This is a book of unusual resources. Its subtle wit and wisdom are specific enough to enrich all people who think seriously about their careers in our world as we know it, yet broad enough to embrace the ebb and flow of their full lives. In a deeply personal style, Allan draws upon his experience as an accomplished management consultant and presents a hopeful challenge to the person in the complex organization who sometimes feels he's losing control of his life.
Because these are pages of penetrating insight, and because they yield something new with every encounter, Work, Love and Friendship is a book to read and re-read.
"Written with verve and insight." Wall Street Journal
"Cox cinches his place in the Who's Who in this specialized field (business writing) with this tiny volume … a tart and refreshing book." Chicago Tribune Book Review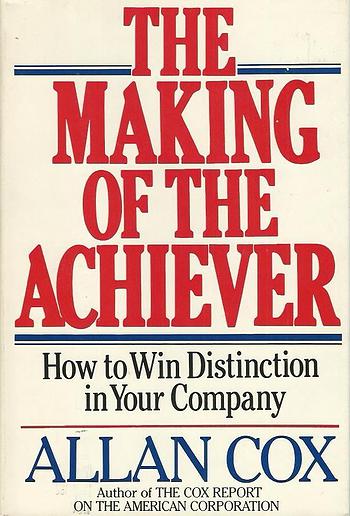 The Best Take on What Correlates With Success
The author discusses the dynamics of executive achievement and provides the means and ways for making them work for you in the business world. He shows the reader that executive achievers are marked by four main qualities: other-centered, courageous, judicious, and resourceful, thus, the profile of the achiever.
"Any executive who pays careful heed to the lessons in this provocative and stimulating little book will be unlikely to misdirect his or her energies. Allan Cox has given us one of the most valuable works of its kind to be published in many moons. And he has gone a long way toward proving that his concept of 'achievement' is much closer to what the American economy now needs than the notions of 'direction' and 'leadership' being touted by such of his publishing rivals as Lee Iacocca and Harold Geneen." Los Angeles Times Book Review
"Especially refreshing." Forbes
The best take on what correlates with success—Highly recommended! (February 24, 2004—Amazon)